Our outdoor spaces aren't just about brick and concrete. Now more than ever, they are about celebrations and gathering with family to enjoy the outdoors.
Are you ready to enjoy your outdoor patio, deck, or porch and want to ensure everyone is cool and comfortable? Check out some of our best summer tips to make the best use of your outdoor spaces this summer.
Table Of Contents - Click To Expand Or Hide -->
Please note: Some of the links in my posts are affiliate links. I get commissions for purchases made through those links. As an Amazon Associate I earn from qualifying purchases when you buy something from those links.
Let's Start With Privacy – Tips for Adding Privacy to Your Deck or Patio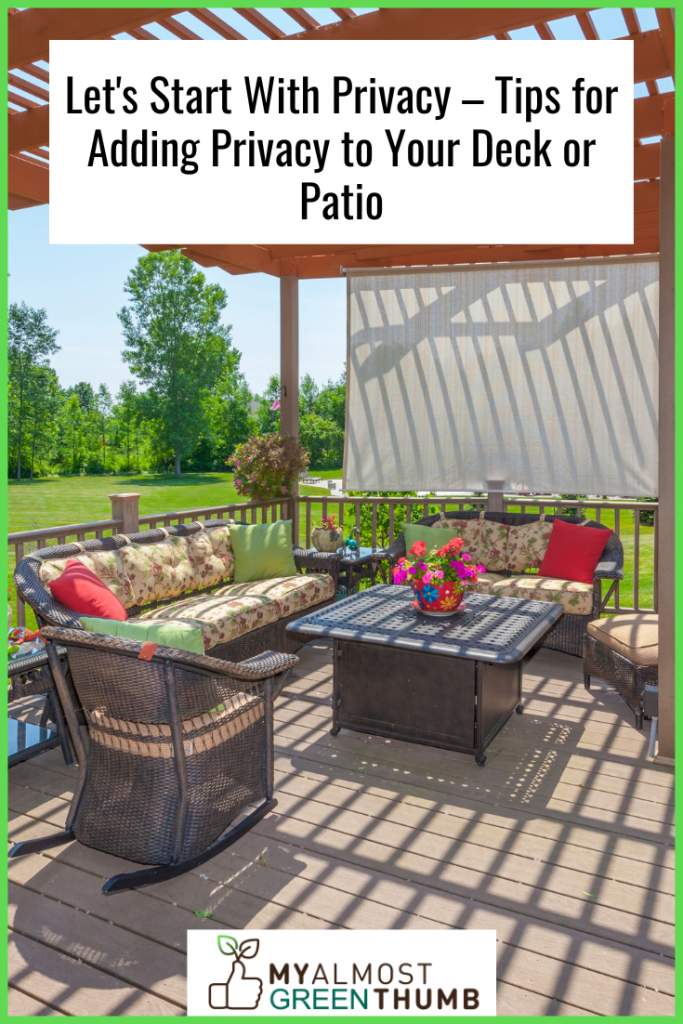 When gathering with family, you want to maintain privacy. A few well-placed outdoor plants can go a long way toward keeping snooping neighbors out of your space.
Permanent tall shrubs always fit the bill when keeping prying eyes out; if you can't make that happen, artificial shrubs like these six-foot cedar topiary silk trees can do the trick. Artificial trees can be moved around as necessary and even be brought into your home for winter storage.
If you're looking for a more permanent solution, consider building a living wall, or use this DIY artificial plant wall, to add privacy to your backyard patio or deck. Living walls that are covered with either live or artificial plants provide both privacy and a great conversation piece.
Next, Let's Talk About the Wind – Tips for Securing Your Patio Furniture from the Wind
The wind can wreak havoc on an outdoor family gathering. Not only can it ruin your new hairdo, but it can also blow your patio furniture or umbrellas away. To avoid this, anchor them to the deck or employ sandbags to weigh them down.
These tie-down anchors can also do the job of securing patio furniture or planters on your wood deck. They can be attached to any wood deck and used to secure items like patio furniture or even planters.
Fighting The Pests – Getting Rid of Bugs Around Your Porch, Patio, or Deck
Often, we step outside and are immediately under attack by mosquitos or other bugs that make their way into our spaces while we're just enjoying our families. Get rid of the bugs by first figuring out which pests are bugging you. Once you know that, you'll know how best to deal with each.
Try to keep the patio clean and crumb-free so as not to attract bugs in the first place. Use yellow or sodium vapor lights and plant herbs like rosemary, chive, lemongrass, or citronella torches to ward them off. Spray water infused with lavender or eucalyptus for a natural barrier.
Be careful with tiki torches as they can create a fire hazard if you don't properly secure them. Let your garden pitch in by planting bug-repelling plants like marigolds to fight mosquitos. If you don't have a garden, use a potted marigold on your patio.
You can also use mint-flavored mouthwash and a mixture of hydrogen peroxide and water. If you're really having issues and these methods don't help, it may be time to have your yard treated by a pest-control professional.
Are There Plants that Keep Bugs and Mosquitoes Away from My Porch or Patio?
Your garden can look pretty and work for you simultaneously by including bug-repelling plants in your patio or porch decor. Citronella, of course, is excellent for repelling insects. There is even citronella grass that can be planted in your yard.
Lavender is a great option; just grow them a few feet apart in direct sunlight for optimal growth. Basil actually kills mosquito larvae, helping to nip the problem in the bud before it even begins.
Can Artificial Plants Keep Bugs Away from My Porch or Patio?
When you're trying to keep your patio or porch free from bugs, if you would prefer, use artificial plants and flowers made of rubber and plastic. These materials don't attract bugs.
Just make sure you maintain them and treat them with a UV spray if they will be in direct sunlight to avoid fading. This Sunguard UV protectant spray can be used on artificial plants, outdoor décor, and furniture.
Staying Out of the Rain and Protected from the Sun – Awnings, Umbrellas, and Solar Sails
Don't let the weather or sun rays rain on your parade. While the sun is one of the best parts of the great outdoors, it can lead to issues for some family members. An awning, umbrella, or sun sail can offer a fantastic way to shelter from both the sun and the rain.
What should I look for in a patio awning?
When choosing an awning, opt for light-colored options to reflect sunlight. You may prefer a retractable awning so you can put them away when not in use. This retractable awning from Outsunny can offer protection for your family.
What Should I Look for When Choosing a Patio Umbrella?
Make sure when choosing table umbrellas that your patio is level. Consider a freestanding umbrella so you can move it around when needed. When choosing an umbrella, go for one that's larger than the actual sitting area.
Large patios can use cantilever umbrellas. They angle out over a large area to offer protection. This 10-foot Sunbrella cantilever umbrella is an excellent choice.
What Should I Look for When Choosing a Shade Sail for My Deck?
Shade sails offer a semi-permanent shared area. To employ one, pick the right spot in your yard and the existing structure you'll attach it to for the summer. They are available in waterproof or breathable materials and different shapes.
Use the triangle and right-angle shade sails when you're covering a corner. Choose the rectangular or square shade sails for full coverage of your deck or patio.
Additional Options for Keeping Your Patio, Deck, or Porch Cool in the Summer Heat
When enjoying your yard, make sure everyone stays cool and comfortable. There are several ways to do this:
Misting systems offer a cool mist, cleaning out the air around you. By absorbing the heat, they can drop the temperature by twenty degrees.
Outdoor fans come in a variety of styles and sizes. They can lower the temperature and circulate the air.
An outdoor cooler stocked with cool drinks can keep the fun going in the summer heat.
Enjoying your outdoor space with your family is as easy as employing these simple tips! Use the right plants, coverings, and appliances to make your outdoor space inviting.
Do you love your porch or patio in the summer? Share your best tips for keeping your space cool, private and bug-free in the comments!