So, you recently put in a new pool, moved to a new house with a pool, or you're just ready to decorate your pool at long last. Plants make the pool, just like they make pretty much any space.
The great thing is you can use both fake and live plants to decorate around your swimming pool. This way, when the live plants go dormant for the cold season or die off, you still have lovely decor in your outdoor space.
A whole range of options exist, and there are benefits to flowers versus plants, and vice versa. Choosing the right plants for your swimming pool area is an important step in this outdoor design process.
Please note: Some of the links in my posts are affiliate links. I get commissions for purchases made through those links. As an Amazon Associate I earn from qualifying purchases when you buy something from those links.
Table Of Contents - Click To Expand Or Hide -->
The Best Potted Plants to Go by the Pool
Vines, ivy, and sun-hardy plants are ideal for a pool area as they will thrive during the summer season and simply go dormant during the off-season. You also don't have to worry about much upkeep.
Planting Creeping Jenny in Containers Around Your Pool
A pretty vine, creeping Jenny requires little maintenance, is super hardy in full sun, and only asks for regular watering. These plants thrive in USDA zones 2 to 10.
Planting Desert Broom in Containers Around Your Pool
Desert Broom offers hardiness and a pop of color to your pool area. With yellow blooms and green compound leaves, this plant mixes up the ordinary green plant color.
It also grows quickly and offers a fragrant environment from its scented blooms. A low-maintenance plant, the one thing to be mindful is the webworms attracted to the desert broom. Keep the area beneath it raked clean to keep these pests away.
Planting Salvia in Containers Around Your Pool
Salvia is a great plant for the pool area as its green foliage offers lovely little leaves, and when it blooms, you can get a range of colored flowers, including blue, purple, pink, red, white, and yellow.
Salvia also brings a raft of pleasant aromas like pineapple, fruit, and sage. This versatile plant attracts pollinators as well and tolerates high summer heat. It's the perfect plant for your pool area.
The Best Landscaping Plants to Go by the Pool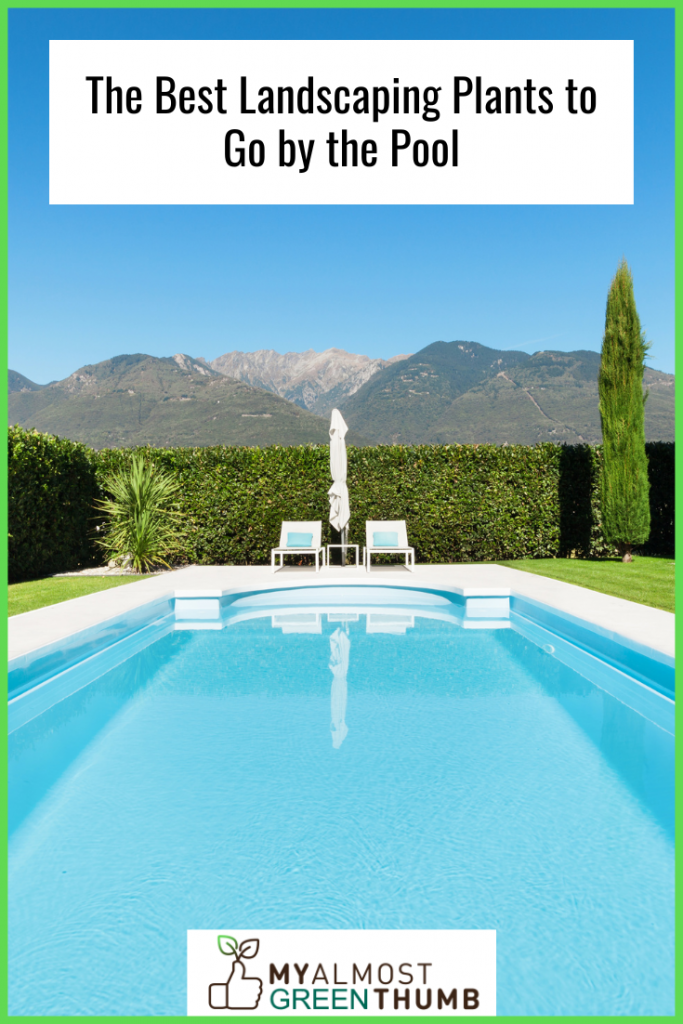 Of course, if you're willing to give a bit more attention to your plants, you can always add in landscaping. Potted plants are much easier to manage, but for that extra element of oasis, why not do some planting on the actual grounds?
Planting Banana Trees Around Your Pool
Banana trees turn your pool into a tropical get-away. Be aware they need full sun exposure and are not frost resistant, so only add them to your landscaping if you live in a temperate climate.
Plant them near a wall or fence that can act as a buffer from high winds that can easily lift them up and carry them away.
Planting Zebra Grass Around Your Pool
Another great tropical landscaping plant, zebra grass, with its horizontal stripes and ornamental nature is a perfect addition to any pool area as it is easy to care for and goes well with other plants.
Planting Hawaiian Hibiscus Around Your Pool
The Hawaiian hibiscus brings paradise to your poolside, so if you are able to grow it in your climate, you must! It is a bit of a high maintenance plant, like its cousins, the Kona Princess and the Crown of Bohemia.
You might have to grow it in a container during winter and keep it indoors near a window, but if you can manage it, Hawaiian hibiscus is the perfect tropical plant for poolside decorating.
Flowers vs. Plants Around the Pool
It can be tough to decide between flowers and plants around your pool. Flowers offer beauty and pop, points of interest and color. Plants are relaxing and calming and offer a more natural look most people expect by a pool.
How to choose? Well, you can weigh the benefits of both, of course.
Benefits of plants by the swimming pool:
Plants are more relaxing.
Plants provide more privacy around the pool.
Getting the right plants around your pool increases the value of the pool.
Plants keep pools clean.
Benefits of flowers by the swimming pool:
Flowers generate happiness. It has been shown flowers improve people's moods, and they reduce the likelihood of stress or depression.
Brightly colored flowers attract pollinators.
Flowers bring more of a beautiful and aesthetically pleasing atmosphere to the pool.
In the end, there is no reason you can't do a bit of both. Include lots of plants, with a few flowers interspersed or tons of flowers with plants and trees as the background. I have no doubt you'll make the choice best for your pool area.
Live vs. Artificial Plants Around the Pool
Another choice that often leaves you choosing a little of both is the decision between live plants and artificial plants. Let's look at the benefits.
Benefits of artificial plants by the swimming pool:
Fake plants are hardy. They are durable and can withstand all weather.
They last a long time. You can get a fake plant to last up to eight years and still look brand new!
They are non-toxic. Eco-friendly and non-toxic, fake plants will never have you worrying about your kids or pets.
They are low maintenance. You won't have to water them or worry about pests.
They look realistic. Good quality fake plants look as real as live plants with a fraction of the maintenance.
Best fake plants to go around the pool:
Nearly Natural Paradise Silk Palm Tree
This tree is tall enough to be used outside by the pool, but it is also small enough to blend with your other plants. It offers a tropical feeling, with sprawling fronds that extend outward in all directions.
Nearly Natural 5260 Paradise Artificial Palm Tree
Six feet tall with 15 fronds that offer an abundance of feathery leaves, this tree is the perfect tropical addition to any poolside.
Nearly Natural 4865 Agave Plant
The agave plant comes with a beautiful black planter that will add an element of elegance to your tropical poolside atmosphere. It stands 30 inches high and has an array of bold, spiny leaves.
Benefits of real plants by the swimming pool:
Real plants keep pools clean. Water-loving plants catch leaves, insects, and other forms of debris from falling into the pool. You can also choose plants that repel insects like mosquitoes.
Real plants increase value. Potential buyers will love your outdoor poolside area even more with the right landscaping design so much that they will pay more for your home!
Some plants or flowers offer a fragrant atmosphere. Obviously, the fragrance element is something you'll be missing if you go with only artificial plants by the pool.