Prayer plants are a wonderful addition to your home or office, and the lemon lime prayer plant is one of the most mesmerizing of this genus. Nontoxic to kids and pets, hardy, and easy to care for, you can't go wrong with this medium-sized, patterned foliage taking up space in virtually any room.  
The Maranta leuconeura is a rare, highly sought after species that will even flower under certain circumstances. You can count on this plant to hang in there as long as you follow some basic care and feeding steps and don't severely neglect it. You definitely don't need to have a green thumb for this plant! 
Read on for all the reasons a lemon lime prayer plant is perfect for your home or office and how to ensure you keep it thriving in your space. 
Please note: Some of the links in my posts are affiliate links. I get commissions for purchases made through those links. As an Amazon Associate I earn from qualifying purchases when you buy something from those links.
Table Of Contents - Click To Expand Or Hide -->
A Lemon Lime Prayer Plant Is Good for Homes and Offices 
The lemon lime prayer plant is native to the forest, so it is a creeping, trailing plant that grows quickly and will eventually flower in your home. It does not need much sun or water, so it doesn't take a ton of your attention.  
It is called a prayer plant because the leaves curl up and inward in the evenings, almost like praying hands. Those leaves are a dark, vibrant green with yellow geometric patterns that splay outward from the center spine, looking almost painted on.  
It can drape down from a table, hang from the ceiling, or even spread out from a low pot that sits on the floor.  
This plant is also excellent for air quality as it not only removes toxins from the air in your space but also exudes fresh air into that space.  
Are Lemon Lime Prayer Plants Good for the Feng Shui Flow of a Room? 
Feng shui is all about balance in the room, and the lemon lime prayer plant is the epitome of balance. It opens up during the day and closes down at night, providing a rhythm in the home for cyclical living.  
Thus, the lemon lime prayer plant is great for feng shui. It is also a symbol of peace and prayer, obviously, with those curling leaves standing as a representation of humility and gratitude.  
According to the principles of feng shui, prayer plants should be placed in the east or southeast areas of your home.  
For more information on how to ensure feng shui is flowing in your home, check out the master class article on how to use feng shui.  
Are Lemon Lime Prayer Plants Easy to Grow and Maintain? 
While some prayer plants have a reputation for being difficult for beginners, the lemon lime prayer plant is not in that category. It is an easy-to-care-for, hardy plant that will thrive in your home or office.  
How Do Lemon Lime Prayer Plants Grow? 
This green and yellow potted plant will grow quickly, sprouting baby plants that can be snipped off and replanted into the pot where bald spots may appear on the top of the plant as it spreads. Remember, it will be a creeping plant.  
What Kind of Soil Does a Lemon Lime Prayer Plant Need? 
The soil essential for a lemon lime prayer is one that drains well. Quite often, you will find advice to plant this gorgeous greenery in a peat-rich soil so you don't have to water it regularly, but it is much better to plant in a light indoor plant soil with perlite in the mixture so the plant's roots have room to spread out and the soil can dry out before you water it again.  
How Much Light Does a Lemon Lime Prayer Plant Need? 
Remember, the Maranta leuconeura is a forest floor plant natively, so it does not need much, if any, direct light and should be kept in a place with plenty of indirect sunlight to mimic the type of light it would get in its native habitat.  
How Much Water Does a Lemon Lime Prayer Plant Need? 
The worst mistake you can make with a prayer plant is to overwater it. You can allow this plant to fully dry out before watering again. This approach will keep your plant fed and help prevent pests attracted to moist soil and root rot.  
To learn more about watering your plants, check out this article on watering mistakes you're making that are killing your plants.  
Other Conditions that Are Important to a Lemon Lime Prayer Plant 
One thing to keep in mind when it comes to the lemon lime prayer plant is humidity. Again, a forest floor will trap in nice, humid warmth, which is what this plant needs.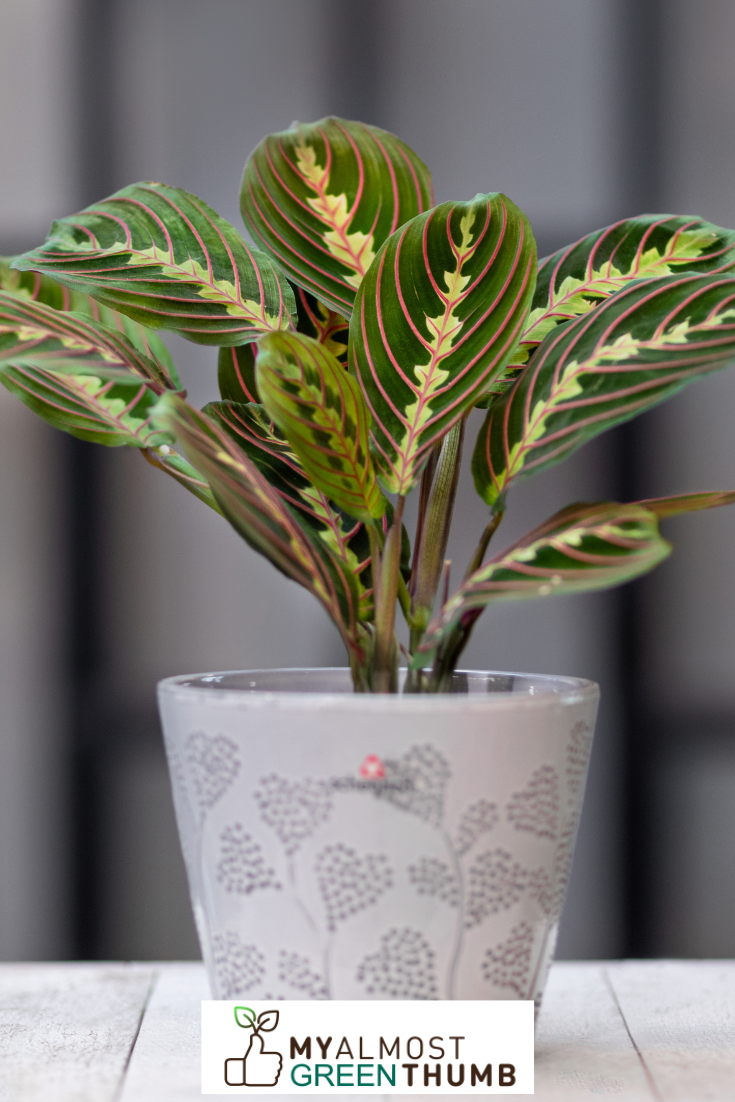 To replicate this effect, you can either place your lemon lime prayer plant on a plate of pebbles with water in the bottom, ensuring the pot is not sitting directly in water, or you can spritz the plant with water regularly.  
Lemon Lime Prayer Plant Decorating Ideas 
You can do so much with this colorful plant in any space in your home. It would do especially well in a kitchen adjacent to a window or in a bathroom near the window. That way, it gets both humidity and indirect light.  
Keep it in a neutral-colored pot so the variegated leaves can really pop and surround it with other plants with bright greens but no other colors, so your lemon lime stands out. It deserves the attention.  
Do Fake Lemon Lime Prayer Plants Look Real? 
In the end, if you're worried about keeping this plant alive, or if you have struggled up to now, first, take a look at my article on how to rescue a lemon lime prayer plant. If you're still not feeling inspired to work with this plant, you should absolutely invest in an artificial version.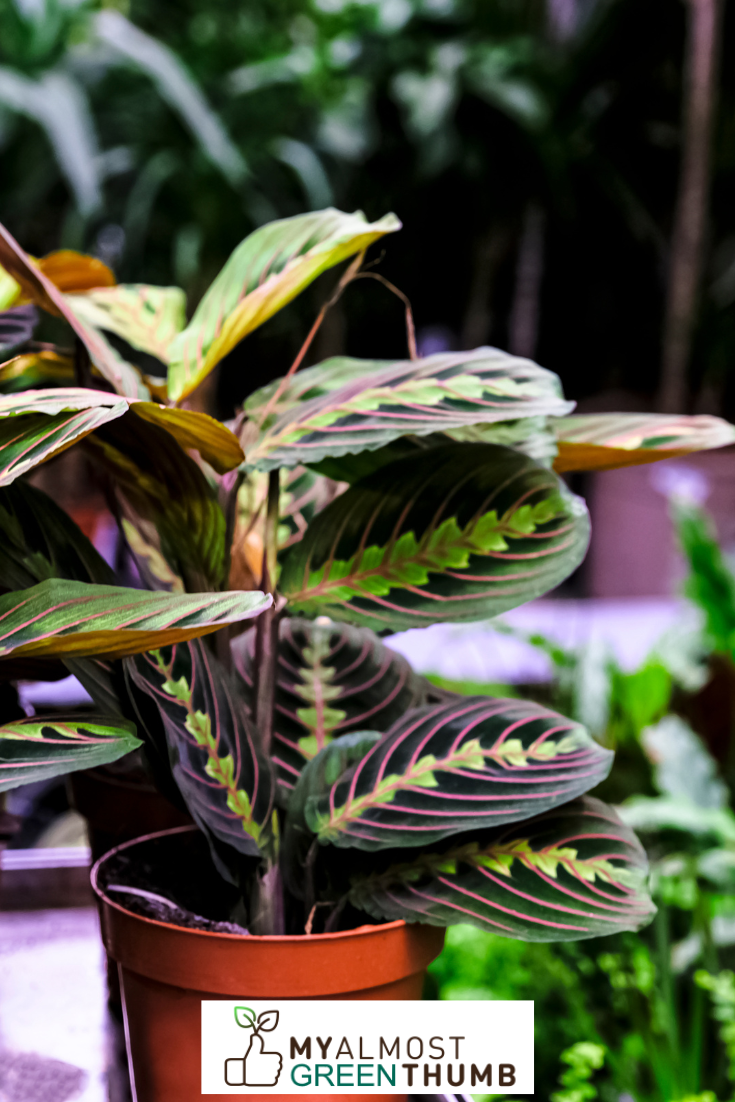 The fake lemon lime prayer plant is still gorgeous, looks just like the real thing, and will give you all the feng shui and decor benefits as a real one.  
If you're worried that fake plants might not be trendy, check out my piece on whether artificial plants and flowers are tacky.  
Either way you go, a lemon lime prayer plant is a lovely addition to your home or office.  
How about you? Where do you keep your lemon lime prayer plant? And how is it working out for you? Let me know in the comments.