If you have a friend or family member who was born in November, it's thoughtful to give them a special gift that incorporated their birth flower.
Like a birthstone, a birth flower is full of meaning and represents the month and those born in it, and it's a great November birthday idea. For those born in November, the chrysanthemum, often called the mum, is their birth flower.
Chrysanthemums are associated with good fortune, longevity, and prosperity. They also symbolize love and friendship. Mums come in a wide range of colors, making it easy to find just the right color for your recipient.
Please note: Some of the links in my posts are affiliate links. I get commissions for purchases made through those links. As an Amazon Associate I earn from qualifying purchases when you buy something from those links.
Table Of Contents - Click To Expand Or Hide -->
Chrysanthemums Can Bloom into the Fall, Making Them a Good November Birthday Gift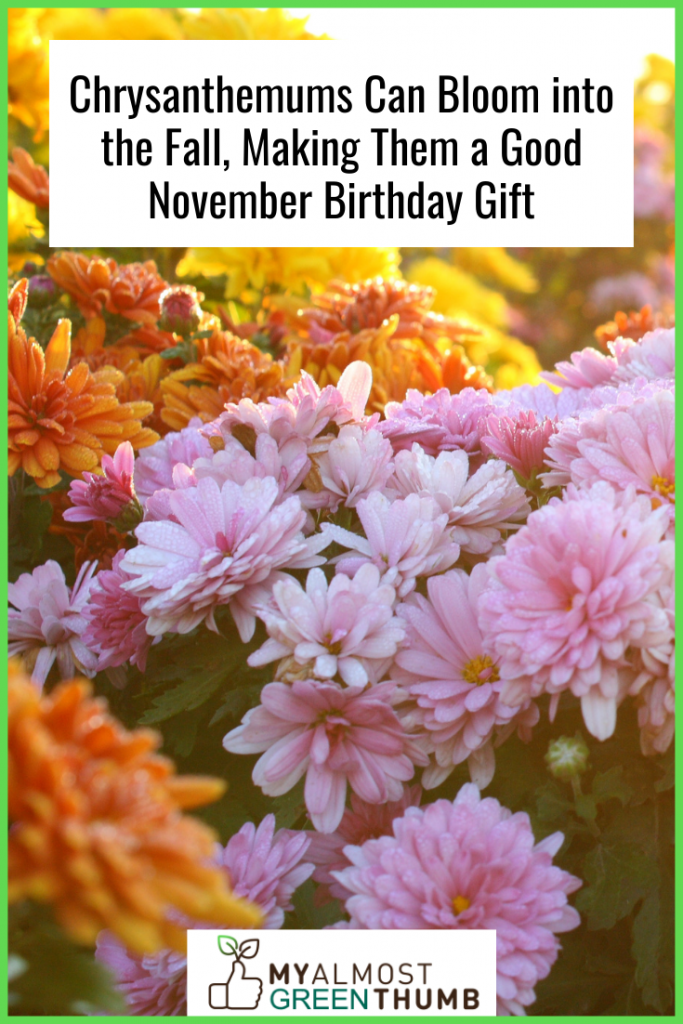 There are many different varieties of chrysanthemums, and each has its own blooming time. In general, this plant is well-known for holding its blooms long after other plants have called it quits for the winter.
In fact many varieties will bloom from late summer into the early winter, depending on where they are located. This makes it possible to give fresh mums to someone in November as a thoughtful birthday gift.
Bouquets That Contain Chrysanthemums Are Easy to Find in November, So Finding a Colorful Bouquet Should Be an Option
Mums are late bloomers each year, and it's easy to find bouquets that contain them. For November birthdays, there are many bouquets that use mums as an integral part of the arrangement.
Chrysanthemums come in both soft colors and bright ones, so a number of fascinating bouquets can be made with them.
For bouquets that are made from soft, pastel colors, pale mums such as the light purple or pink varieties are perfect for adding great color and texture to the arrangement.
For brighter bouquets, choose a bouquet that features bright orange or yellow mums. No matter the color of the chrysanthemums, when featured in a lovely bouquet, they make a meaningful gift for someone who has a November birthday.
Artificial Chrysanthemums Are Readily Available for Low-Maintenance Gifts for November Birthdays
If you want to give a thoughtful gift that represents November but that will last much longer than a bouquet with live mums, you can give artificial chrysanthemums to the person you care about. Artificial flowers last for years instead of weeks, and they can be made to look just like the real flower.
Another aspect that makes them a great gift is that they require no maintenance at all. No need to cut the flowers, to add water to them, or to thin out the bouquet as some flowers start to wilt.
Artificial flowers will keep looking great long term without needing anything more than to be dusted occasionally. They can also be placed anywhere, unlike a gift of a chrysanthemum plant.
While real mums are available only during certain seasons, artificial mums can be enjoyed all year long.
Incorporate Chrysanthemum into Your Birthday Gift – Without Giving Flowers
If you don't want to give chrysanthemum flowers for November birthdays, you can still give your loved one a gift that incorporates mums into them.
There are countless items that use the shape and/or colors of the chrysanthemum in their designs without using actual flowers.
Another way to represent November birthdays is to use the birth stone of November, the topaz, in the gift.
Many special pieces of jewelry combine the look of a chrysanthemum along with a topaz stone.
This sterling silver pendant uses the color and shape of mums along with a brilliant topaz in the center for a gift that is highly representative of November.
You might also choose a bracelet that features the shape of a mum along with a topaz as another focal point. These and other beautiful jewelry pieces that use November elements are great gifts that can be a reminder of how much you care about the recipient.
Chrysanthemum-Scented Lotion birthday gift Will Give Them the Scent of the Birth Flower Year Round
There are a number of other ways to incorporate chrysanthemums into a birthday gift without giving flowers. One of these is to give an item that is scented with the sweet, fresh scent of the chrysanthemum.
Consider this chrysanthemum-scented lotion that uses natural ingredients to make it highly moisturizing. Everyone uses lotion, and this one comes with a great scent that your gift recipient can smell all year long.
Instead of the fleeting smell of the plant itself, they will be able to smell the delicious scent of mums whenever they want.
A Chrysanthemum-Scented Candle Is a Lovely Gift for November Birthdays
A candle that is chrysanthemum scented is one that is a joy to light as well as to leave unlit in a decorative place.
Even unlit, a scented candle will keep giving off its scent, and with this chrysanthemum-scented candle set, the candles are not only scented like the flower, but they are colored like a bright pink mum.
Even better, the candles themselves are shaped like the flower, making them a great way to give someone the beauty and scent of the chrysanthemum and the cheer of its bright color without sending a flower bouquet.
These candles will last a long time, and the recipient will likely think of you when they are lit. It's a thoughtful gift that anyone with a November birthday will appreciate.
If you have someone close to you who was born in November, consider a November birthday flower gift to make their big day even more special.
From live flowers to jewelry and lotion, options abound for making your loved one with a November birthday feel special with a November-themed gift.
What is your favorite example of chrysanthemum-themed gifts for November birthdays? Let us know in the comments.