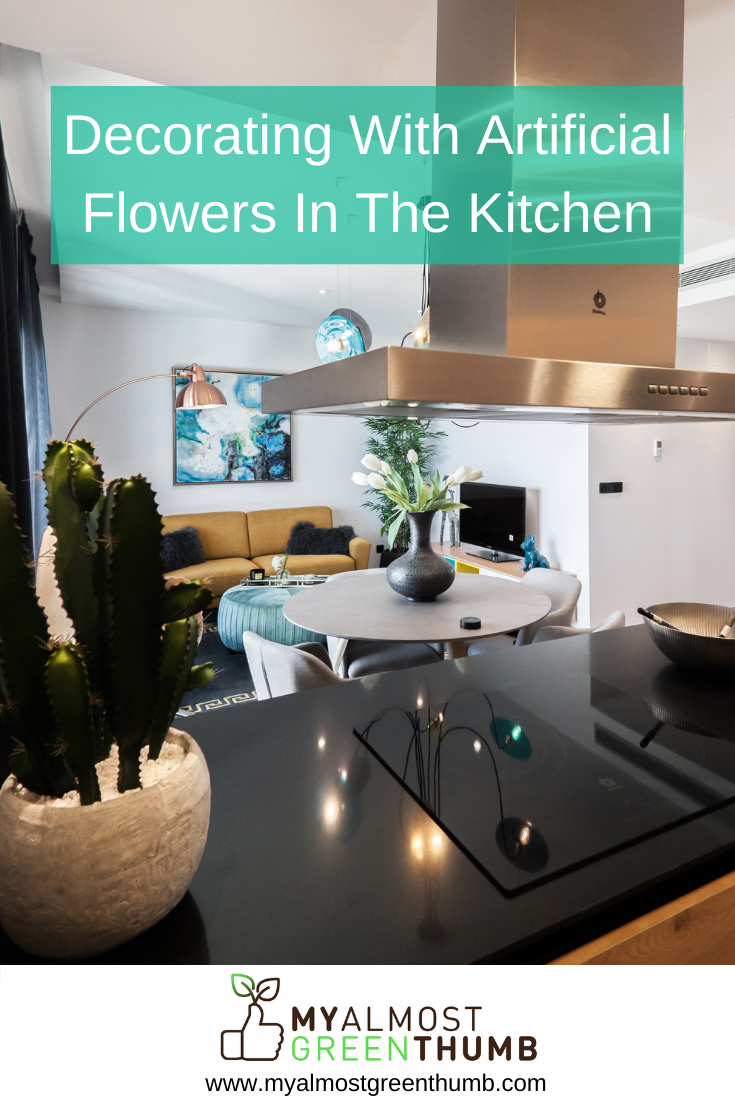 If your house is anything like mine, then the kitchen is the gathering spot.
But it's often a space that can be an afterthought when it comes to decorating with plants and flowers. Often, we're too busy using the kitchen to worry about decorating it. Faux flowers, though can brighten up this common gathering spot without getting in the way of your kitchen's intended use.
Please note: Some of the links in my posts are affiliate links. I get commissions for purchases made through those links. As an Amazon Associate I earn from qualifying purchases when you buy something from those links.
Table Of Contents - Click To Expand Or Hide -->
Identify likely spots for faux flowers.
Some obvious decorating locations exist in your kitchen – the kitchen table, the windowsill over your sink. But think beyond the obvious locations. Walk into your kitchen from all its entrances and take a look around. Note what areas of your kitchen your eye is already drawn to as well as places that could be a focal point.
Think about flat spaces that could hold a vase or bucket with flowers as well as walls and cabinets that might look good draped in a garland or be a good location for a swag.
This Phalaenopsis Orchid arrangement is simple and elegant, a beautiful décor piece.
Decorate your kitchen island.
One of the biggest complaints I hear from people with an island in their kitchen is that it attracts clutter. Its open, flat surface just begs people to put mail, schoolwork and toys on it. You can beautify your kitchen and discourage clutter by decorating your island with a centerpiece arrangement that is easy to move when you need to use your island for food preparation.
This beautiful Hawaiian Helicon arrangement is the perfect centerpiece to attract your guests attention!
For a tropical look, stick with a simple, clear vase and let the flowers be the showpiece. If you're looking for a more sophisticated option, find a tall vase and add cherry blossom branches or other tall flowers. Check out these ideas from Kelleynan's Gracious Living blog.
Look up.
If your cabinets don't go all the way to the ceiling, be sure to use the space on top to showcase some beautiful décor. Swags and branches that spill over the side will draw the eye upward, making even a small kitchen seem larger.
If you need to fill up a shelf or window sill, use flowers and branches like faux dogwood that are big enough to be seen but small enough not to overwhelm the space.
This Agave in a Pot plant is perfect if you are looking for a medium sized succulent!
Less is more.
The kitchen, more than most rooms, is a functional space. If you decorate countertop space, the arrangements need to be easy to move so you can use that space for other things like food preparation and serving. Because of that, use the less is more principle.
Choose a single large vase or container for a countertop or table. If you want to have a grouping of items, place them all on a single tray so they are easy to transport to a different location. If you're creating a grouping, keep in mind that your items should be of different shapes and heights to build interest.
Use single flower sprays to create your own flower arrangement!
Don't forget the walls.
If you want to get more flowers in your kitchen, think about your wall and window space. Window ledges and even above your windows are great places for fake flowers. Consider draping a garland over a curtain rod above your windows instead of curtains. Add small Mason jars with artificial flowers on your windowsills.
Brighten your walls with a wreath or swag as part of a larger grouping of décor items or make a large wreath a focal point on one of your walls.
No matter what size or style kitchen you have, faux flowers have a place. Be creative in how you use them to decorate the meeting place of your home. And don't worry if your kitchen doesn't match the kitchens in glossy home décor magazines. Choose the flowers and containers that you like and that match your own personal style. If the kitchen is the heart of the home, then it should reflect the things that your family loves.
We'd love to see pictures of how you use faux flowers in your kitchen, so drop some in the comments.
And, as always, don't hesitate to contact me with any questions.
—