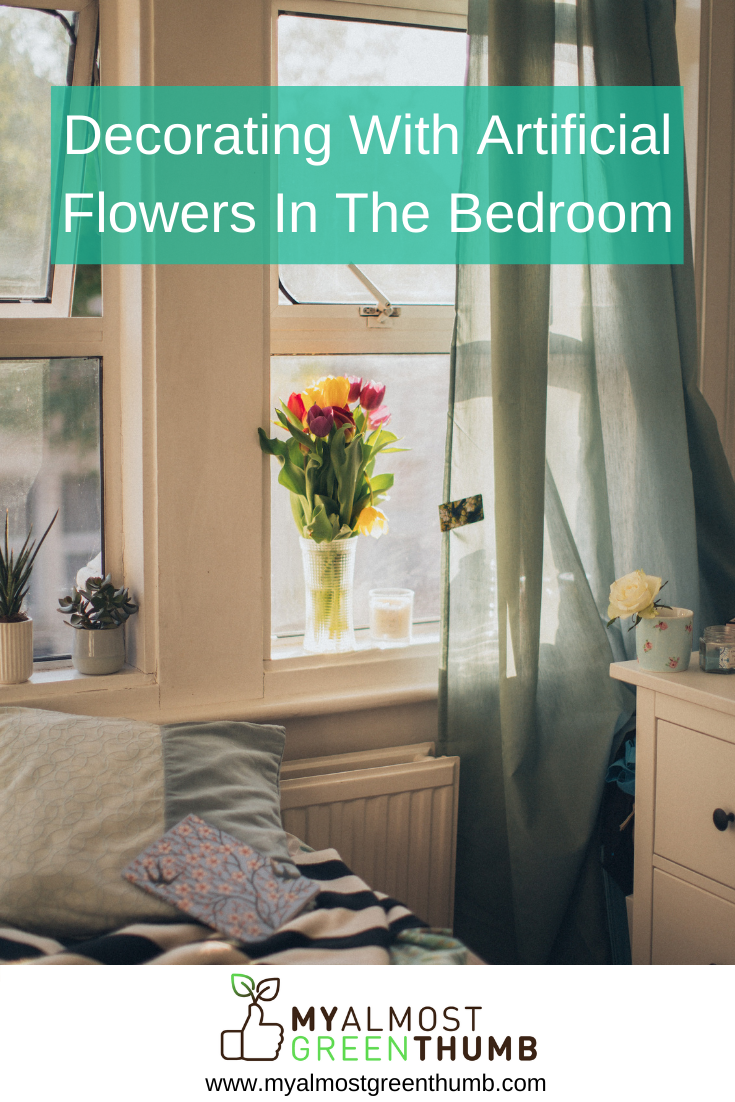 When I have a stressful day, I want to come home and flop on my bed and relax. But I can only relax in my bedroom if it's a relaxing place to be, and in my house, that means it needs flowers.
Flowers can brighten up any space, but a lot of times, we don't think much about putting them in the bedroom. If you're using fresh flowers, it can be a pain to remember to water them or replace them if they're not in a high-traffic area of the house. Plus, flowers and plants shed pollen, which puts them out of bounds for the bedrooms of allergy sufferers.
Please note: Some of the links in my posts are affiliate links. I get commissions for purchases made through those links. As an Amazon Associate I earn from qualifying purchases when you buy something from those links.
All of that makes faux flowers the perfect addition to any bedroom. Bedroom flowers provide a beautiful finishing touch to your bedroom décor without causing sniffling and sneezing while you're trying to sleep.
I've rounded up some great tips for decorating with flowers in your bedroom or if you're in need of some ideas for a plant aesthetic room. If you're looking to spruce up your room or even give it a total makeover, try some of these options.
Table Of Contents - Click To Expand Or Hide -->
Match your flowers to existing artwork.
Choose flowers that share the same colors as artwork already on your walls. Place the matching flowers on a nightstand or table under the artwork to create a finished look to your room.
Add a pop of pink with this beautiful Cherry Blossom arrangement. Great if you have any pinks in the artwork you have!
Go neutral.
If your bedroom walls tend toward the brighter end of the color palette, no need to bring in more color. Choose an arrangement with neutral colors that will pop against the brighter color of the wall.
This beautiful glass vase is overflowing with white Phalaenopsis Orchids, perfect if you have any neutral colors in your wall art!
If your bedroom tends to be more of a white room, then don't be shy to add pops of color with plants and flowers. Check out this white room with plants for some inspiration:
Get out your color wheel.
Choose a complementary color for arrangements in your bedroom by using a color wheel, like this one from canva.com. Online color wheel options allow you to pick a color and the color wheel calculator will show you complementary options.
This Hydrangea and Peony arrangement will sure do the trick for brightening up your bedroom vibe!
Create a flower wall.
Flowers don't just have to sit in vases or other containers. The bedroom is a great place to create a flower wall where flowers are adhered directly to the wall. Check out this video for one example. You can create a flower wall with live flowers, but it will last a lot longer and become a permanent part of your décor when you use artificial flowers.
If you are wanting to create a plant themed bedroom, then this DIY flower wall is a great addition!
Use your windowsills.
The problem with flowers in the bedroom is that a lot of the flat spaces are often used for other things. The tops of dressers might hold the TV or a jewelry box. Nightstands are often spots for books and lamps, which doesn't leave a lot of room for flower arrangements. If you can't find a spot for your fake flowers, try putting them on the windowsill. The bright sunlight will draw attention to them. Just be sure to rotate them so they don't fade on just one side.
This Silk Sweet Pea Bunch in Glass Jar would look beautiful on your bedroom windowsill!
Decorate your headboard.
Who said plants can't be on your bed? Having plants above bed and fun flowers incorporated in your bed frame and headboard make for a chic and modern touch to the botanical bedroom feng shui. Twine a garland through the slats of your headboard to give your bedroom a secret garden look. Consider adding a strand of lights as well for a more romantic atmosphere.
You can use this flower garland to decorate for romance!
Create a theme.
If you place more than one artificial arrangement in your bedroom, tie them together with a theme. The theme can be color-related or you can use all the same type of flower in each arrangement. You can even tie your flowers together by using similar containers for different types of arrangements.
No matter how you choose to use faux flowers in your bedroom, you'll be creating a space that exudes your personality and welcomes you in after a long day. Let flowers help you create an oasis where you can take a break from all the stresses of the day.
If you use artificial flowers in a unique way in your bedroom, we'd love to see it. Drop a photo in the comments.
As always, please let me know if you have any questions.
Until next time,
—