As part of my series in reviewing indoor herb and garden kits, the Click & Grow Smart Garden 3 is my top recommendation for a desktop or indoor windowsill herb growing system.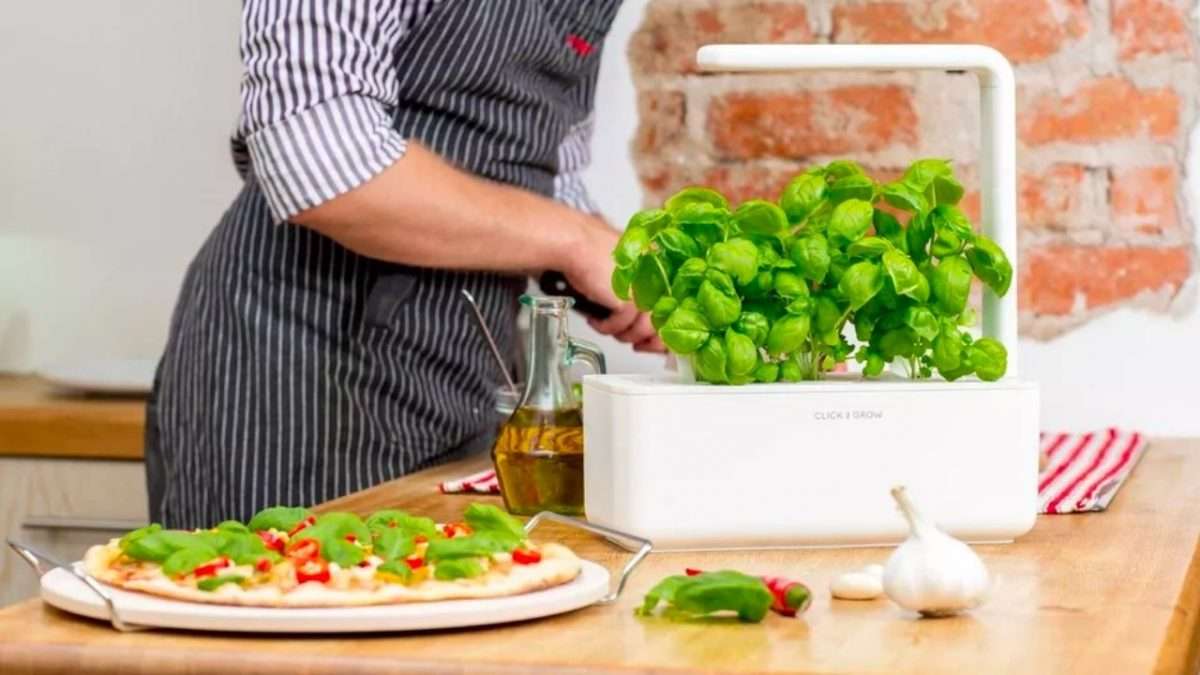 I'd recommend growing plants that don't shoot up (like dill) as they will quickly outgrow the light.
Please note: Some of the links in my posts are affiliate links. I get commissions for purchases made through those links. As an Amazon Associate I earn from qualifying purchases when you buy something from those links.
Grow herbs, vegetables, fruits or flowers all in one tiny space with this amazing smart garden kit. It is perfect for your kitchen counter or window sill.

Fully automated indoor growing system
Click & Grow Review: Top Features
Ease of Setup
The Click and Grow comes totally pre-assembled, and the packaging is very user friendly, full of great pictures and advice as well as reorder information for additional seed pods. Opening the box feels more like opening a well packed lunch box than a garden system. The little booklet that comes with the kit is very helpful in providing step-by-step instructions for set up. Each pod came pre-planted so the labels were marked "basil" for each container.  Water was added to the reservoir until the white float reached the green surface level.
Grade: A+
Features/Operation
This unit works almost entirely on its own, and comes with three basil "pods" pre-planted… just add water and plug it in. The light (an energy efficient LED) goes on and off by itself (16 hours on, 8 off), giving the plants all the light and heat they need. The humidity covers are a nice touch, speeding up the seed germination process. I also thought the little "peel back" plant labels were neat, especially if you are growing multiple different kinds of plants.
The float (integrated into the lid) is clever, making it easy to see when you need to add water. The seed pods themselves include the nutrients the plants need to grow, meaning no adding or monitoring of nutrient levels separately. The adjustable arm (3 settings) on the light allows you to set the light close when plants are small, and move it up as they grow.
The Click and Grow also has a companion app for your smart phone that enables you to track things like growth rates, water levels and more.
So what would I like to see improved?
The float … it has a tendency to get stuck when you're filling the water level. Not a big deal, just a little annoying.
Higher adjustment levels for the light. As it stands, the light only extends about 10″ above the plants. This can be a problem for plants (like dill) that like to grow up fast and furious. Don't expect to grow plants that have tall stalks. Also, at it's highest level the light is a little flimsy… doesn't seem sturdy.
Replacement pods cost: One of the biggest issues with the Click & Grow is the cost of replacing the pods with new seeds/varieties. A new 3-pack is $19.95.
Grade: A-
Productivity
Wow! What a great harvest. The plants grew quickly, had a uniform growth pattern, and by harvest time I had lots of tender leaves. One thing to note here is the seed pods come packed with seeds, so whereas with the AeroGarden you will get 2-3 plants shooting up per pod, I had up to 12 basil plants shooting up per pod.
This means you'll likely want to do a little thinning after a couple weeks, but it guarantees that if one or two of your seeds are duds you'll still have a full harvest.
Grade: A
Fun Factor
This is my favorite design of all the comparable desktop indoor herb kit units, and my favorite aesthetically. I picked the option with the green lid, which gave me something green to look at while I was waiting for my plants to grow.
I also loved the packaging the unit came in, which was like opening a lunchbox and was filled with fun/interesting facts about growing food. I also like how "clever" this system is, from the innovative water float to "peel back" plant labels on each of the seed pods.
Grade: A
Overall Recommendation
My favorite! This is my top recommendation for a desktop or indoor windowsill herb growing system. I'd recommend growing plants that don't shoot up (like dill) as they will quickly outgrow the light.
If you're not interested in spending the extra $$ to get replacement pods, I'd recommend grabbing a bag of starter plugs (which fit perfectly in the pod holes) and using your own seeds.
If you go this route, you'll also have to add your own nutrients to the water.
Have experience with the Click & Grow indoor growing system? Have questions about it? Be sure to drop and questions or feedback in the comments below.