Window boxes, flower beds, and front porch flowers all make lovely additions to a home, but, unfortunately, all plants require care. And some plants require a great deal of care.
Many people have such busy lives that they don't really have time to fit in the care and well-being of their favorite outdoor plant buddy, even if it's beautiful. Fortunately, there is a solution.
Instead of using real flowers and plants, many people opt for fake shrubs, artificial plants, and flowers in outdoor gardening spaces. These beautiful plants help create a beautiful space.
Please note: Some of the links in my posts are affiliate links. I get commissions for purchases made through those links. As an Amazon Associate I earn from qualifying purchases when you buy something from those links.
And the best part? They cut down on the time, energy, and resources consumed to maintain them.
Table Of Contents - Click To Expand Or Hide -->
Is It Okay to Use Fake Plants and Flowers Outside?
If you're new to the artificial flower game, you might be wondering if it's appropriate or okay to use fake flowers outside. The answer is a resounding "Yes!"
Fake flowers for outside spaces make for a beautiful way to create the plant-appointed yard of your dreams without all of the extra care. Before you choose which plants you want outside, though, it's essential to grasp their limitations while selecting your artificial outdoor mums or any other plants.
Things to Consider When Planning Your Outdoor Landscaping with Artificial Plants
While choosing your plants and flowers, you'll want to consider several key points. Check to ensure that the artificial plants will fare well in direct sunlight.
You'll also want to double-check your homeowner association's (HOA) rules on artificial plants and flowers. Finally, be sure to understand what, if any, watering will be necessary.
Let's take a closer look at these considerations in more detail.
Some Artificial Plants and Flowers Don't Do Well in Direct Sunlight
When buying a real plant, you'll always see care instructions. While fake flowers for outside don't need to follow the same types of care instructions, they still need a little love.
In fact, some fake plants can actually melt or fade in direct sunlight. If you have a plant that you're afraid may run into this problem, consider making it a ​​front door plant. If your home has an overhang over the front door, it will be shielded from the direct sun.
While everyone loves a beautiful set of plants by front door areas, you may not have space, or your front door area may be in direct sunlight. If this is the case, consider other shady places in your yard that may work better.
On the other hand, if you don't have any shady spots or you're set on that sunny spot for your plants, consider purchasing a UV floral protectant spray.
Some Homes Associations Limit the Use of Artificial Plants and Flowers
An HOA's goal is to protect and preserve the value of the homes within the association. They have many rules that say what homeowners can or cannot do. So, before adding artificial plants to your outdoor space, check that they are allowed with your home association.
You may find that your association takes issue with fake plants and flowers because they find them to be tacky. Be sure you understand the rules, so you don't get fined or waste time and money creating something that an overzealous HOA board will just make you remove.
In this situation, it's better to be safe than sorry.
Artificial Plants and Flowers Require Less Watering Than Live Plants
One of the best parts about artificial plants and flowers is that they don't require much (if any) watering. Aside from a bit of water to keep them clean, they certainly don't need it to survive.
This means that those artificial mums for outdoors will not need watering when your area hits a dry spell. In fact, if you live in an area prone to drought, fake plants and flowers would be an excellent way to beautify your outdoor area without struggling with water shortages or dealing with water regulations brought on by drought.
Where Are Great Places to Add Fake Plants and Flowers to Outdoor Landscaping?
As you begin shopping for your plants and flowers, be sure you understand where you'd like the plants to be. Several places on your property would make the perfect home for your artificial flowers.
Adding Fake Flowers to Your Front Entrance
Fake plants for outside front door areas can really add beauty to your entryway. Entryway plants will create a welcoming space for any guest you have, and we think these front porch planters would look great with artificial ferns or fake wildflowers.
You can even change the flowers with the seasons to keep them fresh and new. Maybe around the holidays these can become little tree planters with lights.
Adding Fake Flowers to Your Flower Beds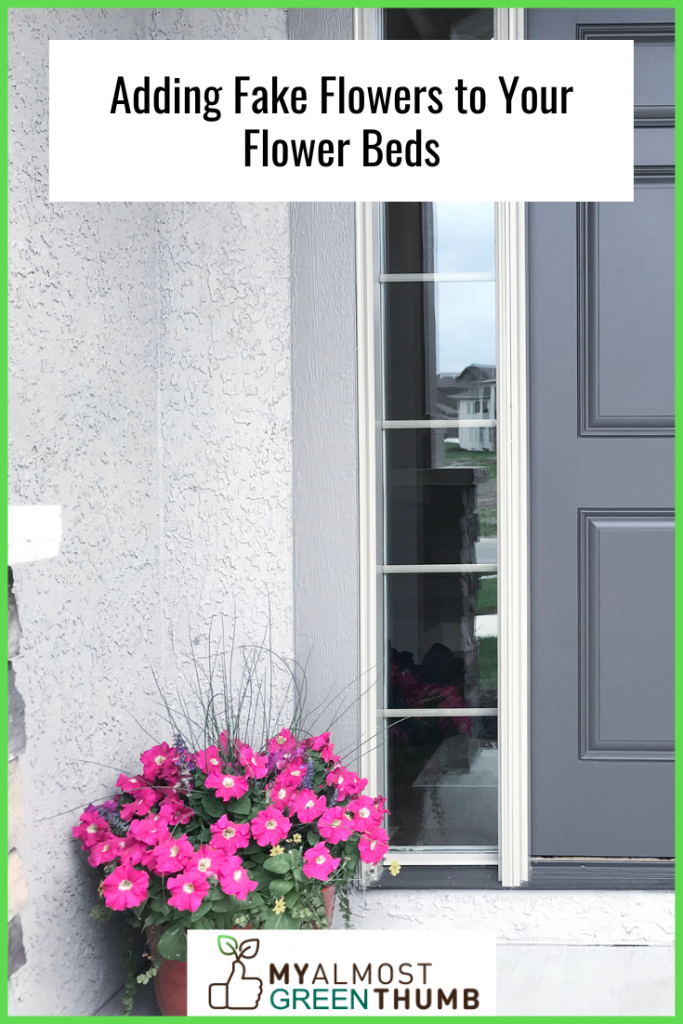 Between fake shrubs that look real and lovely little artificial flowers, there's plenty of beauty you can add to those flowerbeds. Small, artificial flowers are nearly indistinguishable from the real thing.
You'll love that they require quite a bit less work once you "plant" them. These all-weather geraniums look and feel like the real thing, with a lot less work. They would look just fabulous in any garden bed or along your front walkway.
This Artificial Front Door Hanger Looks Real and Even Smells Great
That's right! Have your cake and eat it too! Just hang this lovely 17" Eucalyptus Wreath with Lavender on your front door for a beautiful, low-maintenance look.
Occasionally spray it with this lavender-scented essential oil to keep it smelling just like the real thing. The beauty of relaxing lavender will welcome your guests before you even open the door.
There are so many ways to add beauty to the outside of your home with fake plants and flowers. What are some of your favorite ways to add fake flowers to the outdoors? We'd love to know! Please drop a comment below to share your ideas.