Plants add a beautiful touch to any home. Artificial or real, they add life and vibrancy to any space. As for decor inside your home, your plant will also be in its own pot or container.
While plants can grow in basically any container, some plants and planters work better than others. Brass, for example, is a popular option for planters.
Brass is shiny and provides an elegant, slightly vintage aesthetic to your room. However, while brass may be a beautiful addition to your home, you may wish to know about some potential pitfalls before deciding to use it as a pot for that Ficus in the corner.
Please note: Some of the links in my posts are affiliate links. I get commissions for purchases made through those links. As an Amazon Associate I earn from qualifying purchases when you buy something from those links.
Table Of Contents - Click To Expand Or Hide -->
Are Brass Planters Good For Live or Fake Houseplants?
Brass gives any room a lovely, formal feel, and it certainly looks more pulled together than a plastic or clay container. So, if you're hoping for something formal, brass is probably a good option. However, brass can also have adverse side effects.
Since brass is an alloy of copper and zinc, it can corrode in elements and even leach into plants. So, if you are hoping to continue using a brass planter, you'll want to make sure that the pot provides appropriate drainage for your plant baby. Without proper drainage, you run the risk of inciting root rot, which could kill your plants.
To make sure your pot will keep your plants happy and healthy, begin by drilling a ½ inch diameter drainage hole at the bottom of your planter. Because you'll be cutting metal, be sure you use a power drill and bit designed for the purpose.
After drilling your hole, line the inside of that planter with clear or black plastic to keep the brass and soil separate from each other. Be sure you poke a hole in the liner in the same space the hole in the brass planter lines up to. When adding soil, be sure it does not go above the liner. Next, rub the outside of the brass planter with a brass cleaner and an old rag.
After, buff out the paste cleaner with a microfiber cloth. Alternatively, you could spray the outside of the brass container with clear acrylic lacquer to avoid future oxidation or erosion.
Obviously, if you are planting an artificial plant, you do not need to follow these steps since your plant will not take nutrients from the soil. An artificial plant could be pleased in a brass planter.
If you would like to use a brass planter, here are some unique brass planter ideas that will help you make the best decision for your decor and plants. These brass planters for artificial plants and flowers will also work with real flowers; just be sure to follow the recommendations above.
The Classic Brass Planter – Great For Succulents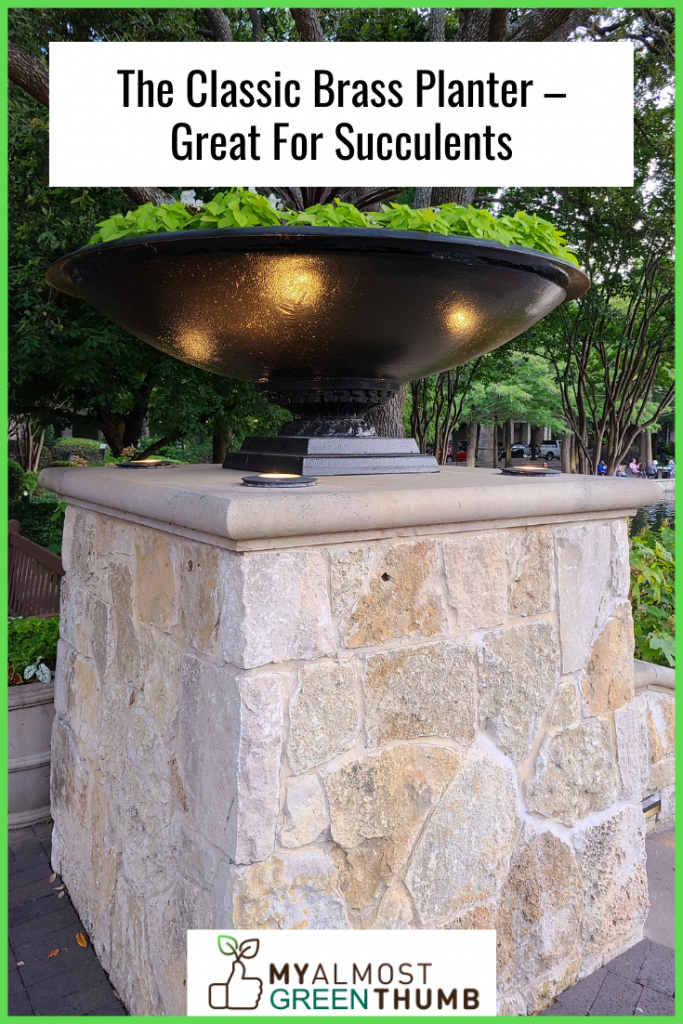 This 6 inch brushed brass succulent planter will add a bit of life to any table it graces. Perfect for real or artificial succulents, this vase is shiny and bold, giving it a contemporary look that will nicely accent a side table, bookshelf, desk, or even table.
Since this one does not have a drainage hole, you can either plant a succulent, or add one for a different plant. If you aren't sure whether your plant would need a drainage hole, you could always put an artificial plant in this pot.
Hanging Brass Planters To Free Up Floor Space
These awesome decorative hanging planters suspend from above and provide a modern hanging piece to put your plant. This set comes with two, so your plants can have a buddy to complement the look.
By hanging these plants and the planters from above, you also create more space below. This one does not have a drainage hole either, so it would also be perfect for succulents or other plants that do not need one.
Vintage Brass Planters Give A Sense Of Style
As we discussed earlier, brass oxidizes. Although this may be difficult to manage with a planter, it sure does look cool. If you are going for more of an antique or vintage video with your decor, these oxidized planters would be great additions to your home. This set has two size options, so you have choices for your planter and its place in your home.
Both pots are rounded, bowlike shapes that are brass but no longer shiny. They show their age through the green oxidation known as patina. Not only is this a unique look to add to your home, but it will also give the feel of rich history and longevity.
Brass Floor Planters Can Provide A Great Container For Medium Sized Artificial Plants
This unique option is 5.75 inches tall with a 6 inch diameter. Its medium size would be perfect for displaying small shrubs or even trees.
The pattern of this piece is a circular stamped, hammered look that gives a vintage and antique feel. Since the brass looks a little worn with a dulled shine, it feels loved and gives off a sense of warmth.
A Brass Vase Can Be A Great Way To Display Stems Or Bouquets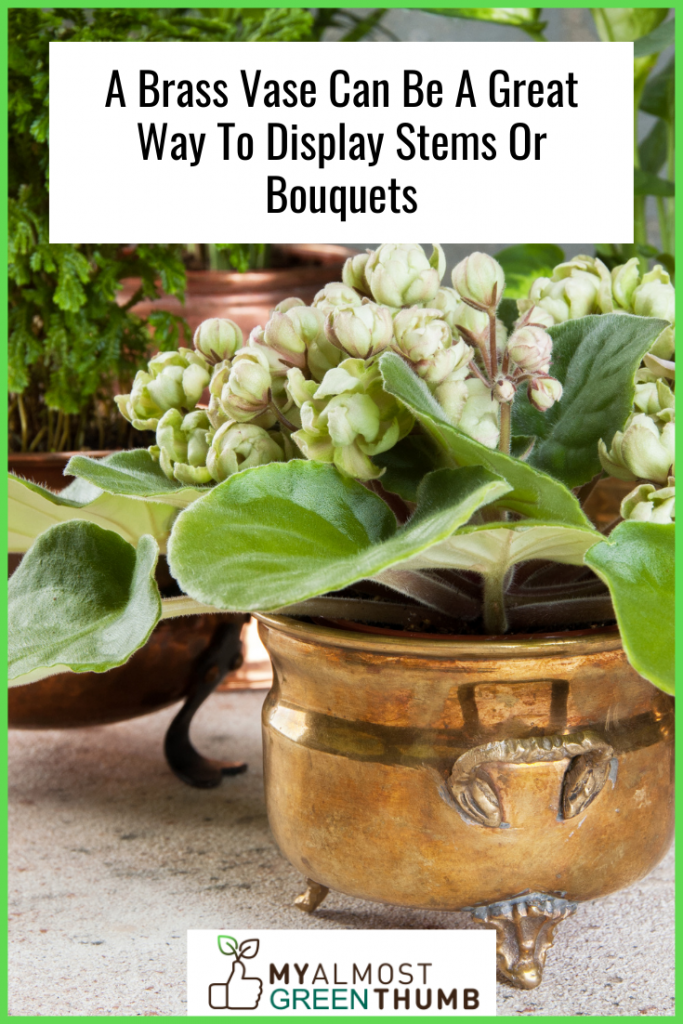 If a brass pot isn't quite the vibe you're hoping to go for, consider a brass vase. With this elegant option, you could display a bouquet that is real or artificial, both would look lovely.
Standing at nearly 7 inches tall, this vase would look beautiful on a counter or even as a centerpiece for your dining table. It would also make a lovely wedding gift if you're hoping to gift a unique piece the happy couple could love for decades.
Benefits Of Potting Plants In a Brass Planter
Remember that the best part about potted plants is that they are easy to move! To give the piece a new look, rotate the pot or even add some different plants! If you go with artificial flowers, it is easy to choose new items to add into the mix.
Brass is beautiful; there is certainly no doubt about that. It adds class and a bit of a vintage feel to your home, but when making a choice to go brass, be sure you also know how to take care of your plants in their brass pot.
We hope you give one of our fun brass planter ideas a try! What are some of your favorite planters to use in your home? Have you used brass? We'd love to know! Please connect with us in the comments below!