The proper maintenance of your artificial plants and flowers is important to ensure that they provide you with beauty for years to last. Dust buildup, pet dander, and all kinds of particles in the air can settle on your plants over time and diminish their beauty.
The buildup of dust and dirt over time can not only diminish the beauty of your artificial plants and flowers, but it can actually harm your indoor air quality. This is especially important to those who might have indoor allergies.
The great news, though, is that there are are some easy ways to clean your artificial plants. Below, I've added a video that is a How to clean fake plants tutorial.
Please note: Some of the links in my posts are affiliate links. I get commissions for purchases made through those links. As an Amazon Associate I earn from qualifying purchases when you buy something from those links.
Luckily, Joni Hilton (aka the YouTube Mom), has put together this great video with tips on how to properly care for and clean your artificial plants.
Be sure to watch the entire video so you can hear each of the tips. Different methods of cleaning fake plants work for different types of plants. Try these different methods to determine which works best for each of your plants.
How Do I Clean Dust Off Artificial Plants?
If you're wondering how to clean dust off fake plants as well as dirt, dander, and other residues, check out the following products below:
Nu-Leaf Artificial Plant Cleaner
This is one of our favorites, because it's a simple spray-and-wipe cleaner that removed dust from the leaves and flowers of plastic plants.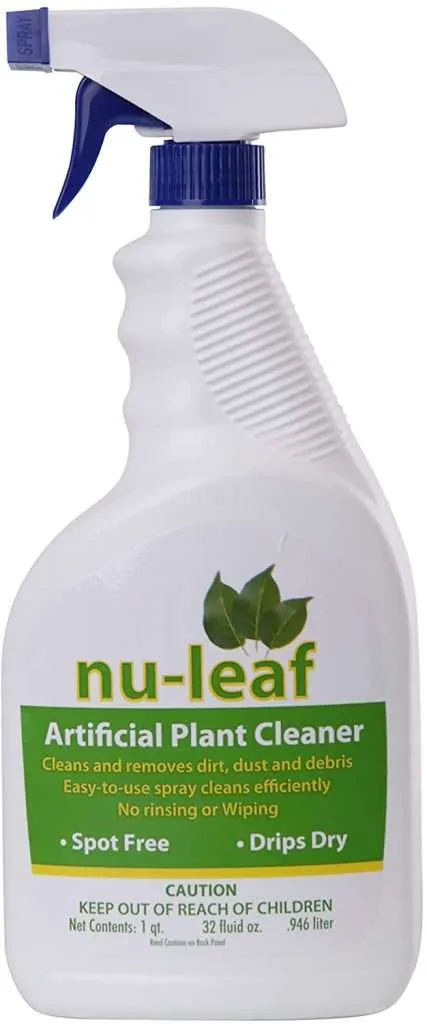 This spray is great for cleaning artificial trees and other plastic plants.
Swiffer Heavy Duty Dusters
These little gems make periodic dusting of your artificial plants and trees a snap. The heavy duty versions seem to really grab on to the dust better and just wiping over the leaves, stems, and trunks of your fake flowers or trees can keep them from building up dust over time.
Special Products For Cleaning Silk Flowers
If you're cleaning silk flowers, the heavy duty Swiffers will work great, but for a deep clean be sure to use a spray that is specifically designed for silk flowers.
FloraCraft Silk n Splendor Silk Plant Cleaner Spray
The nice thing about this cleaner is that it is designed with cleaning silk plants and silk flowers in mind. The best thing to do is to place your silk flower arrangement or silk plant in the basin of your sink or shower and then just spray it down with this cleaning spray.
You don't have to worry about rinsing it off or wiping it down, afterwards. Just spray, let it drip dry, and then place the silk plant right back where it can share its beauty again.
Using A Hair Dryer Or Compressed Air To Clean Silk Plants
If you are concerned about using a liquid spray on your silk plants, another option would be to use a can of compressed air or a hair dryer on the low or no heat setting to blow off any dust or debris.
Be cautious with this method, though, as you don't want to blow off any flowers or leaves that might be delicate.
Do you have questions about how to clean your artificial trees, shrubs, and plants? Feel free to ask them in a comment. Have a tip that you have used to keep your artificial plants clean? We'd love to hear it!
–Sean