The hens and chicks plant is a succulent that is called the hens and chicks plant because of its unique formation. There is a larger, parent plant (the hen) and a variety of little plantlets surround it.
Hens and chicks plants are a great choice to include in nearly every home or office, and there are plenty of reasons why every home should have at least one hens and chicks plant in it.
Table Of Contents - Click To Expand Or Hide -->
Please note: Some of the links in my posts are affiliate links. I get commissions for purchases made through those links. As an Amazon Associate I earn from qualifying purchases when you buy something from those links.
Why Hens and Chicks Plants Are Good for Homes
Hens and chicks plants are incredibly versatile as they are hardy and can grow outside in your garden or indoors in a pot. Hens and chicks, no matter where you plant them, will eventually spread and create more plantlets.
Sometimes, succulents grow slowly. This is not the case for hens and chicks as they grow rather quickly.
These plants are resilient, and since they are succulents, it's fine if you forget to water them for a long period. As a succulent, they make a great plant for novice indoor gardeners who need a forgiving plant that doesn't need a lot of care.
A Hens and Chicks Plant Can Be Good for Your Feng Shui Flow
Good feng shui involves the arrangement of decor in your home so that the flow of the room is positive and calming. Along with its alluring shades of green, the hens and chicks plant can help balance the flow of positive energy in any room.
With feng shui, plants store energy from the sun. This energy is released through growth in the plant and brings a sense of security and balance to the room in which the plant resides.
If live plants aren't your thing, don't worry! You can still enjoy the benefits of feng shui with an artificial hens and chicks plant.
When it comes to feng shui, artificial plants provide the same effects on energy flow as live ones. To learn more about using artificial plants in feng shui, check out this post.
Hens and Chicks Plants Are Easy to Grow and Maintain Any Time of the Year
The hens and chicks plant is easy to grow inside with the right conditions. As a succulent plant, hens and chicks appreciate bright, hot sunlight.
If they are kept in soggy soil, they will die from rot. Hens and chicks multiply quickly and can be grown in nearly any kind of planter as long as that planter has drainage.
How Do Hens and Chicks Plants Grow?
Hens and chicks can be propagated easily by breaking apart the clusters. They can also be grown from seed.
If you're interested in growing hens and chicks, check out this video to get detailed instructions from an experienced gardener.
What Kind of Soil Does a Hens and Chicks Plant Need?
When planting hens and chicks, you need to make sure the soil is nice and sandy since succulents prefer sandy soil. Add a layer of gravel at the bottom, as this helps promote quick drainage. Whatever soil you use, make sure it is lofty and has plenty of room to drain.
How Much Water Does a Hens and Chicks Plant Need?
Hens and chicks are very drought tolerant, which means you should let the soil dry out before watering. You can even leave it that way for several days. However, during the summer heat, make sure you water them more than usual.
Hens and Chicks Plants Are Relatively Inexpensive
Because of their easy propagation, a hens and chicks plant is very economical, and they can be divided easily.
You can buy them at any garden or home-improvement store, and they are relatively inexpensive. The plants and seeds can also be purchased online.
Hens and Chicks Plant Decorating Ideas Are Nearly Endless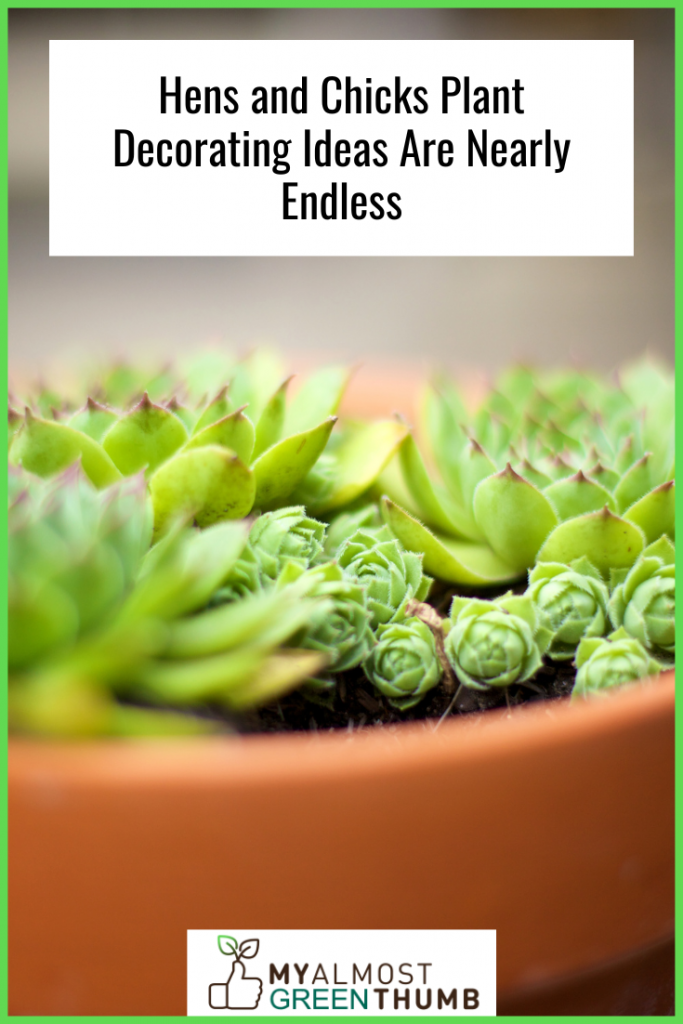 Because hens and chicks can thrive virtually anywhere as long as they have access to bright sunlight, options abound for decorating with the hens and chicks plant.
Get creative with some of these decorating ideas:
Use a vintage muffin tin, fill with sandy soil, and plant hens and chicks in each muffin cup.
Buy a steel chicken feeder and fill the bottom with soil. Hens and chicks will thrive on the bottom, and you can plant something different at the top.
Hens and chicks look amazing in terracotta pots. Try decorating the pots for a chic, bohemian look.
Artificial Hens and Chicks Plants Often Look Just Like the Real Thing
Maybe you enjoy traveling and can't keep real plants in your home. Don't worry! Artificial hens and chicks plants look just like the real thing.
With a wide variety of sizes, containers and shades of green available, you're sure to find a hens and chicks plant that will bring beauty to your space.
We hope you enjoyed this article about the incredible hens and chicks plant. What are your favorite tips for finding ways to incorporate hens and chicks into your home? Let us know in the comments!