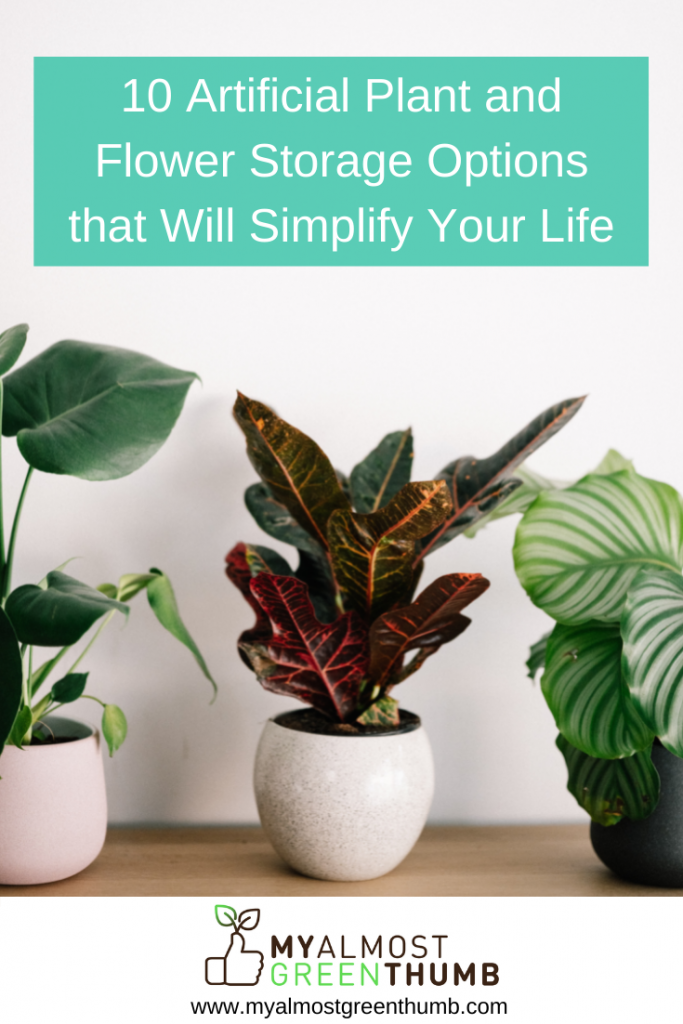 No matter the season, artificial plants and flowers are a great way to beautify your home. Changing out the faux flower arrangements and plants in your home when the seasons change adds variety to your décor, but what do you do with those fake flowers and plants when you're not using them? Their odd shapes and sometimes bulky sizes can make them hard to store.
Have no fear, we've got some simple tips and tricks that will make storing your fake plants and flowers as easy as decorating with them. Check out these 10 different ways to store your fake plants and trees that won't break the bank.
Please note: Some of the links in my posts are affiliate links. I get commissions for purchases made through those links. As an Amazon Associate I earn from qualifying purchases when you buy something from those links.
Table Of Contents - Click To Expand Or Hide -->
Tip 1 – Use plastic containers
Plastic containers come in a wide variety of shapes and sizes that will fit just about any small to medium size plant or flower arrangement. Plastic tubs with snap-on lids also protect the plants and flowers from gathering debris or dust while they're waiting their turn to brighten your home.
Storing items in plastic containers also makes them stackable and easy to store in a basement, garage or attic.
Tip 2 – Try cloth bags
Because faux plants and flowers can be odd-shaped, storing them in cloth bags can sometimes be easier than trying to force them into a container with rigid sides. The flexibility of a cloth bag means you can easily slide it over an artificial plant or flower arrangement.
The bag protects the arrangement from dust and debris while making it easier to store.
Tip 3 – Use a clothes rack
Some items like wreaths and garlands are best stored by hanging. One simple storage solution is to hang wreaths and garlands on a hanger and place them on a free-standing clothes rack.
Cover the artificial wreaths and garland with sheets or bags to keep the dust off, and you have an easy storage solution.
Tip 4 – Buy specialty storage
Another option for wreaths and garlands is a special wreath-shaped plastic container. These hard-sided plastic wreath storage options can often hold more than one wreath and protect wreaths and garlands from being squished in storage.
The hard plastic makes them stackable, which works well for those without a lot of storage options.
Tip 5 – Bag it up
Garland bags are the perfect size and shape to store those lengthy garlands.
Simply place the garland in the bag, zip it up and store out of the way.
Tip 6 – Be economical and try dry-cleaning bags
If you're looking for a budget-saving option, re-use dry-cleaning bags to protect your artificial plants and flowers. Simply slide the plant or arrangement in the bag, tie it off and place it on a shelf.
The plastic dry-cleaning bag will keep dust and dirt off your artificial flowers, leaving them looking fresh and new when you switch out arrangements as the seasons turn.
Tip 7 – Shrink the tree
With bulkier faux trees, like Christmas trees or topiaries, storing them can take up a lot of space. Consider shrink wrapping your artificial trees to make them take less storage space.
When you unwrap them, simply fluff out the foliage, and they will return to their original beauty.
Tip 8 – Try a tree bag
If you don't want to shrink wrap your faux trees, use a tree bag instead. Some tree bags will require you to place the tree on its side, but others are made to simply slide over the top of the tree and allow you to store the tree standing up.
Need to store your topiary? Consider shrink wrapping it or using a tree bag.
Tip 9 – Break out the sheets
For a more economical storage solution for larger artificial trees and plants, simply wrap them in a couple of sheets. The sheets will protect the plants from dust and dirt without costing you a lot of money.
Tip 10 – Racks aren't just for coats
Coat racks are a great option for storing odd-shaped items like wreaths and garlands. Simply hang the item on one of the pegs and cover with a bag or a sheet to keep the dust off. This allows you to take advantage of vertical storage space and prevents you from needing to stack wreaths and garlands.
Wreath storage isn't just for Christmas. Try storing your seasonal wreaths by hanging them on a coat rack or clothes rack.
Bonus Tip – Planter with Storage
If you can't seem to find a place to store your plants, consider investing in a planter with storage. The storage is usually cabinets or shelving underneath the planter. Consider this Raised Garden Bed with Storage Shelf.
Storage solutions for artificial plants and flowers shouldn't leave you scratching your head.
Any of these options will keep your faux plants and flowers looking great until their season comes around again.What item is invaluable to you when storing your fake plants and flowers? Let us know in the comments.
As always, don't hesitate to let me know if you have any questions or concerns.
—